J
TF Easy line MVC TF Mobile line TN
---
Switching set MV type PB-24m is designed for temporary emergency power supply under the sky. Manufactured in cooperation with TELE-FONIKA Kable S.A.
Enclosures and baffles
The outer casing is made of aluminum. The set has two separate compartments: a compartment for power cables (angle heads) and a compartment for drain cables (straight heads). Internal PVC partitions allow safe access between live rails. The enclosure is protected against corrosion and painted with a layer of high-quality varnish in the standard RAL 1021 color (the color can be different by agreement). Thanks to the use of appropriate varnish, the structure is characterized by impact and corrosion resistance.
Busbars
The busbars are made of tinned copper flat bars and bolted to the insulators with nuts and bolts.
ISM25 switch/disconnector
The MV switching set of PB-24m type was equipped with a circuit breaker of VCB/TEL ISM25_LD_1 type from TAVRIDA ELECTRIC with 210 mm pole pitch. The switching unit is made in a three-pole version. Each pole contains a vacuum chamber and an electromagnetic drive. The vacuum chamber is enclosed in a housing made of permanent insulation.

The control units are microprocessor-based devices that contain built-in capacitors: on-off and off-off. These capacitors are discharged in the drive coil circuit. The ON/OFF coil control currents flow in opposite directions so as to ensure proper operation of the drive
The switch is controlled by the CM control unit.
There are two basic assemblies that make up the switch:
switching assembly (ISM) used to close and open primary circuits.
control unit (CM) used to control the ISM unit (operations: on-off) and to reflect the auxiliary circuits of the circuit breaker.
CM_16 control unit
The CM_16_1 control unit is designed to control the ISM switching unit of the vacuum circuit breaker and coordinate the functions of protection automation, control and signaling. The CM16_1 control unit is designed for applications with AC or DC supply voltage (110 ÷ 220 DC ; 100 ÷ 230 AC).
Power cable compartment
Zasilający przedział kablowy jest zamykany na klucz. Przedział ten jest przystosowany pod trzy głowice konektorowe kątowe typu A (250A). Pod przedziałem kablowym znajdują się uchwyty kablowe oraz miedziana szyna uziemiająca z miejscem do uziemienia całej konstrukcji, żył powrotnych oraz głowic kablowych. Na zasilaniu przewidziano miejsce na podłączenie trzech kabli jednożyłowych
o przekroju do 240 mm2 na jedną fazę.
Outlet cable compartment
The outlet compartment is adapted for three straight connector heads of type A (250A) the heads can be connected by a cube. Under the cable compartment there is a Cu grounding rail with a place for grounding the set structure, return conductors and cable heads. The cable compartment cover is bolted to the transport brackets. At the end of these brackets there is one cable holder.
Voltage presence indicator
The presence of voltage is indicated by a capacitive voltage indicator manufactured by ELTOM Poland, KUVAG Czech Republic. Other indicator of voltage presence can be used in the switching set according to customer requirements.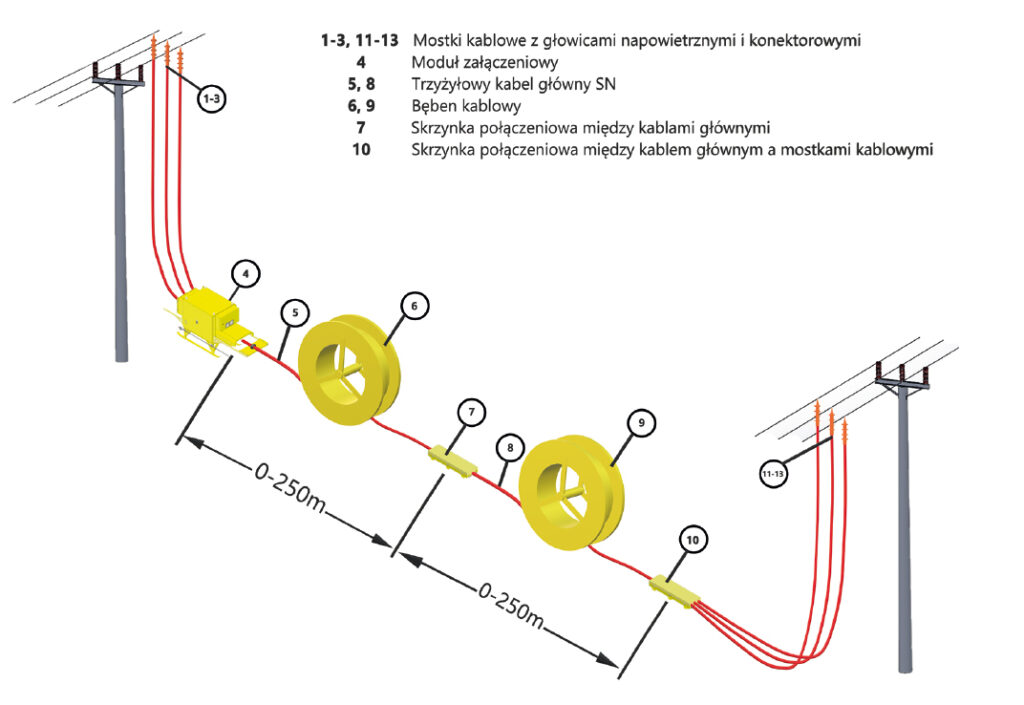 | | |
| --- | --- |
| Rated voltage | 17,5 kV |
| Rated continuous current | 250 A |
| Rated frequency | 50 Hz |
| Mains frequency withstand voltage | 38 kV |
| Surge withstand voltage | 55 kV |
| Rated short-circuit breaking current | 16 kA |
| Rated withstand current 3 sec. | 16 kA |
| Rated short-circuit breaking current | 16 kA |
| Degree of protection | IP54 |
| Weight | 80 kg |
| | |
| --- | --- |
| Height: | 1003 mm |
| Depth: | 682 mm |
| Width: | 2500 mm |
Compliance with standards
PN-EN 62271-1
High-voltage switchgear and controlgear – Part 1: Common provisions.
PN-EN 62271-200
High-voltage switchgear and controlgear. Part 200: A.C. switchgear in metal sheaths for rated voltages above 1 kV up to 52 kV.