J
RSS24w MV air-insulated switchgear
---
RSS-24w type switchgear is designed for use in transformer stations, as well as in medium-voltage cable joints; especially where SF6-insulated solutions are not allowed.
The enclosure is made of aluzinc sheet metal, joined by riveted and screwed connections. The design of the housing is made to allow easy access to the apparatus, which increases safety and intuitive operation during the installation and operation works.
A system of mechanical interlocks prevents removal of the cover before the voltage is switched off and the earthing switch is closed, or erroneous switching operations are performed.
The switchgear set uses a disconnector type NALF 24, manufactured by ABB in air insulation. The switchgear fields were made in an arc-proof version.
Compact layout with dimensions of 1800/651/1010 mm (H/W/D).
A similar arrangement of disconnects and earthing switches allows for easy switching and disconnecting arrangements, without the need for a power transmission system.
permanent isolation partitions, preventing access of operators to live components.
eliminated the insulating partition inserted manually between the contacts of the disconnector when access to the distribution field is required.
The doors of the compartments (disconnector and cable compartments) are put on in a hook system, the design of which allows easy and reliable closing by self-guiding.
Easy access to the inside of the field, especially in cable connectors.
sight glasses in the door allow you to clearly visually identify the position of the disconnector and earthing switch blades.
The mechanical interlock system prevents erroneous switching operations and protects against gaining access to the field before the voltage is switched off and the earthing switch is closed.
The small size of the switchgear fields allows them to replace switchgear sets that use gas insulation (SF6), eliminating the process associated with the control and disposal of SF6V gas.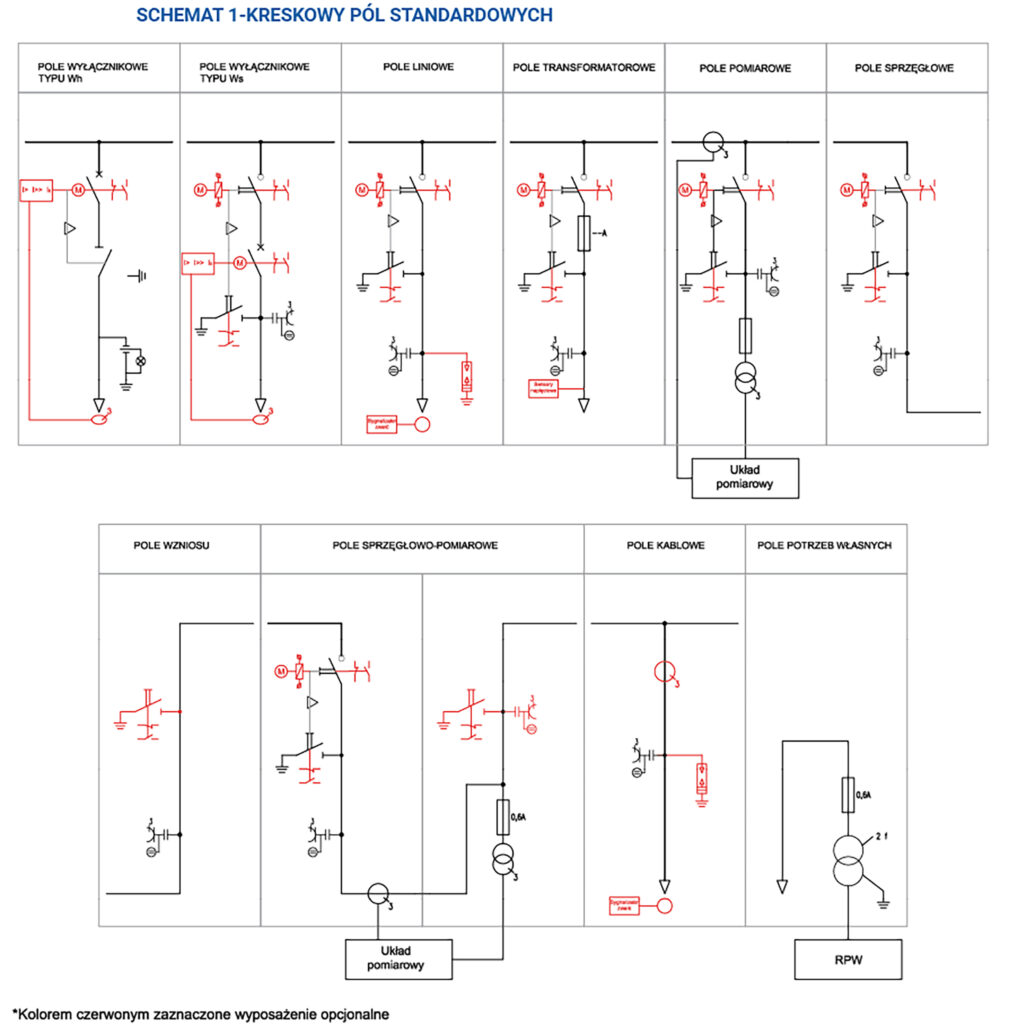 | | |
| --- | --- |
| Rated voltage [kV] | 24 |
| Rated frequency [Hz]. | 50 |
| Mains frequency test voltage | 50 kV |
| Lightning surge test voltage | 125 kV |
| Rated continuous current | 630 A |
| Rated withstand current | 16 kA |
| Rated peak withstand current | 40 kA |
| Resistance to internal arc | 16 kA |
| IP degree of protection | 3X |
| Height / Width / Depth | 1800/615/1010 mm |
Compliance with standards
PN-EN 62271-1
High-voltage switchgear and controlgear – Part 1: Common provisions.
PN-EN 62271-102
High-voltage switchgear and controlgear — Part 102: AC high-voltage disconnectors and earthing switches
PN-EN 62271-103
High-voltage switchgear and controlgear — Part 103: Disconnectors with a rated voltage higher than 1 kV up to and including 52 kV
PN-EN 62271-200
AC switchgear in metal sheaths for rated voltages above 1kV up to and including 52kV.
PN-EN 60529
PN-EN 62262